Microsoft Teams is great!
Everyone is using it!
There is no stopping this train!
But, like most business collaboration software, the ability to make a normal phone call does not come as standard.
By "phone call" we mean the ability to place and receive calls using a standard phone line — to and from an actual telephone.
This ability is important because it makes it possible to truly unify all of your internal and external collaboration within a single platform.
That's the ultimate goal of Teams, right?
Direct Routing is the most effective way to deliver real calling capabilities within Teams, and SIP trunks are a common technology for enabling that integration.
In this blog post, we're going to explain these terms and help you understand the best investments for upgrading your business collaboration capabilities to start making phone calls with Teams today.
What is Direct Routing?
Six months after its release, Microsoft announced that Teams would fully replace Skype for Business as the main voice platform for the company.
Direct Routing is one of a few solutions available to make a real phone call from within Teams, expanding your voice reach beyond Teams-to-Teams calls to the PSTN (Public Switched Telephone Network) — the standard phone network — enabling users to place calls just like they would using a phone.
What really distinguishes Direct Routing as an option is that it provides calling capabilities to Teams by connecting Teams to standard telephony tools. This might be a PBX and/or SBC.
PBX (Private Branch Exchange): A private telephone network used within an organization. A PBX enables you to have more phones than physical phone lines, connect users to the PSTN, and transfer calls internally between users and different call queues.
SBC (Session Border Controller): A device that protects and regulates IP communications, an SBC is deployed at network borders and is used to regulate all forms of real-time communication.
The outcome is a phone system that provides all of the sophisticated call control and management features delivered by a standard corporate telephone system.
This means that it's possible to not only place a call with Teams but to replace your entire phone system with Teams.
But, if that all seems like technical jargon, you can also think about this from an outcome-oriented perspective in comparison to the alternatives:
Cross-launch apps: Apps like RingCentral, Cisco, and Zoom enable PSTN calling from Teams. But unlike Direct Routing, these solutions are not truly integrated — they just make the call from another app. This removes benefits like federated presence, and can't deliver the streamlined workflows and centralization of records delivered by unified communications.
Microsoft Calling Plan: The more direct alternative to Direct Routing is Microsoft Calling Plan. This solution delivers integrated PSTN calling capabilities from Teams. But it's a far less sophisticated digital tool that doesn't provide the kind of call management features needed to be a real replacement. Calling Plan can also be a relatively expensive solution.
Suggested reading: Microsoft Calling Plan Pricing Explained
Pro tip: You need a Microsoft Phone System license for both Direct Routing and Microsoft Calling Plan. With Direct Routing, it's simply a prerequisite license. With Calling Plan, it becomes the main control tool for your calling system. Phone System is included with Microsoft 365 E5 but otherwise needs to be purchased as an add-on.
For more information, check out our blog — Microsoft Phone System Reviewed.
The bottom line: Direct Routing is the only choice that can deliver a fully functional phone system inside Microsoft Teams.
If you want to understand how it works, we need to talk about SIP trunking.
What is SIP trunking?
SIP (Session Initiation Protocol) makes end connections for voice transfers over the internet.
A 'trunk' is a collection of phone lines shared between users.
Ultimately, SIP trunks are the back-end technology that is most often deployed to make the integration connection with a Direct Routing solution — and are used in any number of circumstances to connect PSTN with digital voice.
Trunks or channels?
The term "trunks" comes from the traditional name for groups of cables that would link to telephone exchanges.
With the internet, this process became digital. Each trunk can handle a set number of concurrent calls. The number of channels you'll need relates to the number of simultaneous calls you'll be making and receiving.
Using SIP trunks, a provider can connect any number of channels (a.k.a phone lines), allowing you to make local, long-distance, and international calls.
If you have an on-premises PBX, a SIP trunk provider can also allow you to make calls on your existing system.
As your business grows and needs additional phone lines (a.k.a channels), your company will also benefit from more flexible pricing options.
All this adds up to SIP trunking being more scalable and more affordable than standard PSTN lines.
Some of SIP trunking benefits include:
Reduced costs: Better rates, particularly for international calls.
Flexibility: Enable new channels in minutes with no on-site visit.
Reliability: Data redundancy improves with SIP trunking and VoIP.
Pro tip: Note that "channels" and "phone lines" in this context are the same thing.
What do I need for a SIP Trunk?
The basic requirement for SIP trunks is an internet connection, with good bandwidth and speed.
What bandwidth you need is governed by the number of calls you expect to make – and a good service provider will help you with this.
How to get started today
Effectively, you need to look for a Direct Routing partner, unless you want to build the entire technical infrastructure yourself.
Depending on your infrastructure, SIP trunks are likely to play a role in integrating the different pieces of technology.
But the real business-level choice is between Direct Routing and Microsoft Calling Plan.
Direct Routing is the far more complete solution.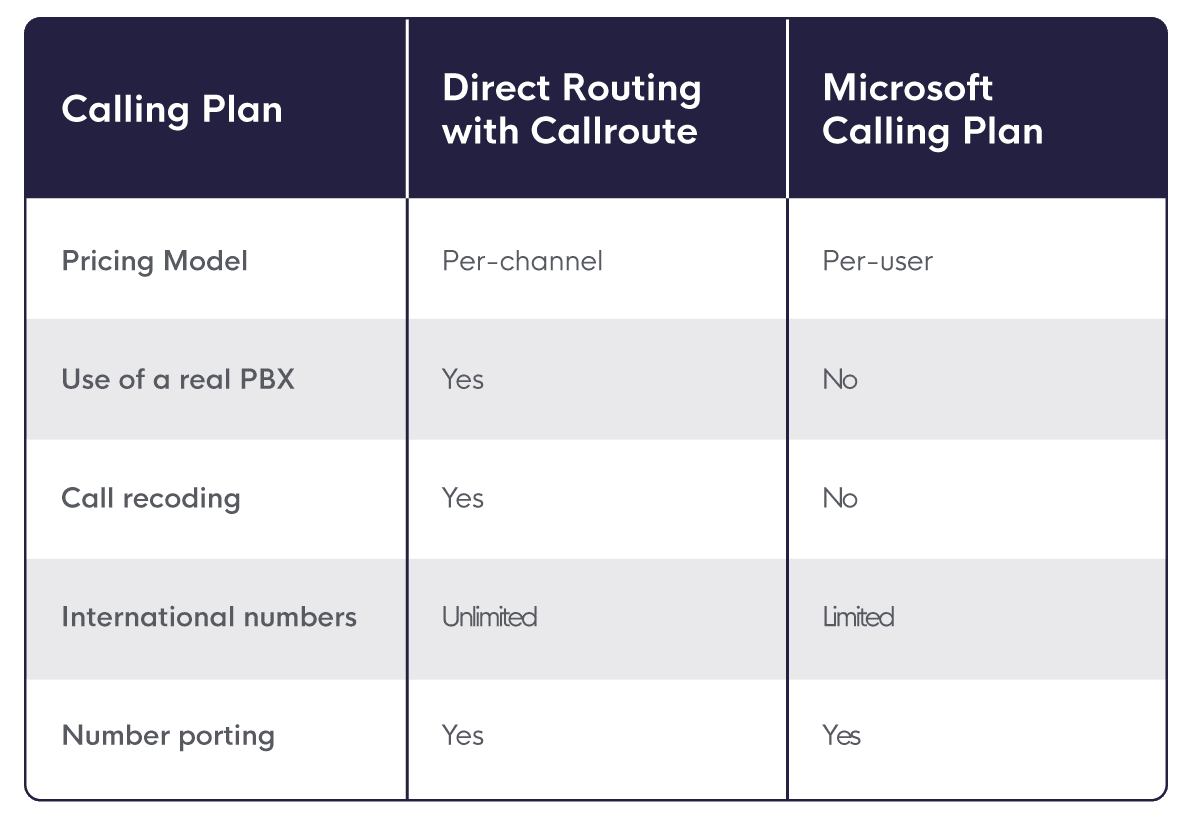 At Callroute, we provide a complete Direct Routing service.
We don't need to connect to another telephony third party to provide a service.
As the PSTN carrier, we can pre-configure a whole range of backend choices — accelerating the process and delivering more dependable outcomes in literally minutes.
That means the ability to:
Integrate with existing PBX and SBC.
Port and keep your existing phone numbers.
Buying new numbers; over 10 million from around the world in stock.
Only pay for active users with per-channel pricing.
Multiple users can be allocated to each phone line based on business demand, saving costs.
By transitioning to Direct Routing, you are able to streamline workflows, increase business productivity and future-proof your communication system.
Try Direct Routing today to see the results for yourself.
We offer a free line for life rather than a time-limited trial, no card is required.