When you run both Avaya and Microsoft Teams, you have two platforms that offer calling and collaboration. A natural desire for businesses is to do one of two things:
Integrate
Displace
In this post, we introduce four ways to integrate Avaya and Microsoft Teams. Before we get started, let's confirm you're absolutely in the right place.
Does Avaya integrate with Teams?
Yes, Avaya does integrate with Microsoft Teams. There are four common ways to achieve this, with different use cases and requirements.
These are:
Callroute
Avaya Calling app for Microsoft Teams
Avaya Session Border Controller for Enterprise and Microsoft Teams
Read on to find out the option that most sounds like you.
Three ways to integrate Avaya and Microsoft Teams
1 – Callroute
The best way to integrate Avaya and Microsoft Teams is to get Callroute to provide the voice connection between your Avaya platform and Teams.
This allows you to use your existing Avaya voice gateways and carrier connections while maintaining a certified Direct Routing connection to Teams.
You can connect Avaya and Teams users without disruption, using Callroute's bring your own SBC feature. You can maintain your business-as-usual voice functionality and move users from Avaya to Microsoft Teams, either individually or in bulk.
One of the biggest benefits of using this is that it doesn't require you to purchase Teams certified SBCs. A certified SBC is required as using an uncertified SBC with Teams Direct Routing invalidates your Microsoft support.
Callroute works with any SBC from any vendor and connects to Teams using its certified SBCs. This allows you to integrate your Avaya to Microsoft Teams within a few minutes rather than a few months.
When integrating Avaya and Microsoft Teams, it is important that users can call each other between systems. When using Callroute with your Avaya phone system and Teams, phone calls between both systems are possible, ensuring your users can continue to communicate without friction.
To integrate with Teams, you must configure Direct Routing. Direct Routing is a Microsoft product that allows you to connect SBCs to Microsoft Teams. The deployment of Direct Routing is fully automated with Callroute and takes just a few minutes.
When connecting your Avaya phone system to Callroute, you only need to make small configuration changes to your Avaya gateway in order to complete the integration.
Once completed, calls between your Avaya and Microsoft Teams users become possible and users can maintain their DDIs across systems and share your PSTN services without any extra hardware.
Moving users between systems is easy. With Callroute's Microsoft Teams management, you can configure a user's LineURI and Teams policies in one click via our self-service user-friendly portal.
Should you decide that Teams will replace your Avaya phone system in the future, you can continue to use Callroute as your Teams Direct Routing provider by reconnecting your existing (or new) carriers directly to Callroute completely in the cloud using our bring your own carrier (BYOC) feature.
BYOC allows you to connect any SIP carrier to Callroute directly in the cloud without any hardware requirements. Connections can be made over the internet, public peering, or private peering depending on your carrier for the most optimal network connection to support high-quality voice.
Callroute takes care of all the connectivity, so you can concentrate on using your phone services rather than managing them.
Callroute brings all your telephony carriers together in a single portal, so you can save money on call costs and provide a unified experience across all your sites.
You get access to a number and license management, provisioning, and our user persona feature, enabling you to make changes at scale without losing hours to administration.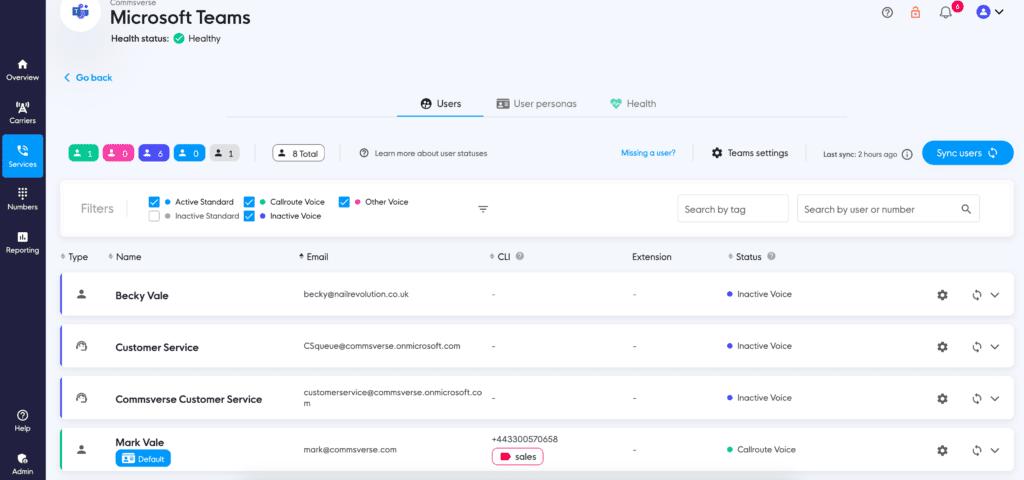 On average, Teams customers save 40% by bundling their call carriers together. Everyone can call each other, regardless of platform.
Users receive a consistent calling experience as we deliver everything via the Teams interface.
How does it work?
Sign up for a 30-day free trial here.
Once signed into Callroute, the first task is to connect your Microsoft Teams tenant to Callroute. You can do this in the Services section in the portal.
You will need to sign into Teams using your admin account. You must also have a spare Teams license available. For more information on prerequisites for this integration, see our knowledge base.
Once you have signed in, the process of deploying Direct Routing is performed automatically. The process usually takes less than 5 minutes to complete.
Once complete, your Teams users will be synchronized with Callroute.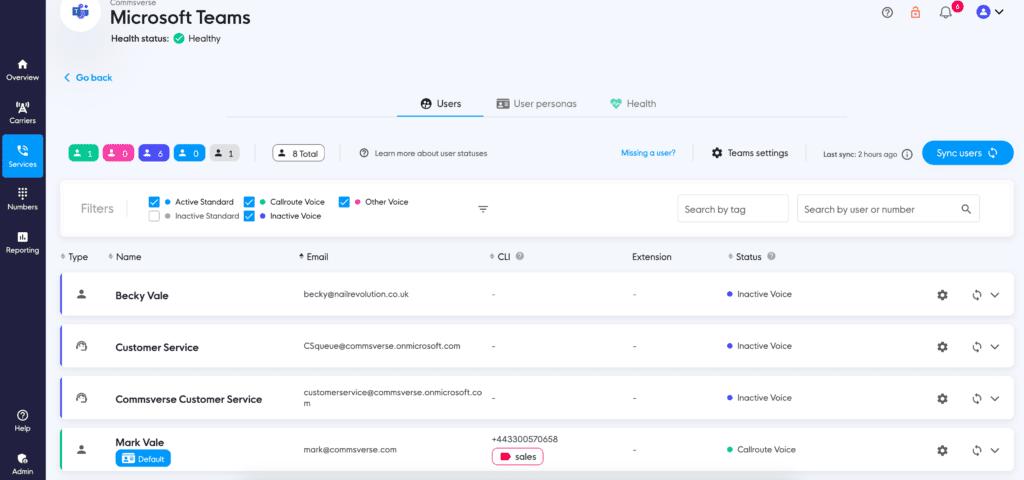 The next step is to integrate Callroute with Avaya. As this is an integration, Callroute will deploy downstream of your Avaya phone system. Therefore, you should navigate to the carriers section and connect your Avaya SBC.
This will build a SIP trunk on Callroute that you can use on your Avaya SBC. For more information on how to do this, please see our knowledge base article.
Once you have completed the SIP trunk configuration on your Avaya phone system, the next task is to define the numbers of the users that will be using Teams for their phone calls.
In the numbers section of Callroute, add the numbers as a range (or individually) and set the destination to Teams and the carrier, your Avaya system.
Now, assign Teams users their number. This process will set the number routing on Callroute as well as the activation of the Teams user's LineURI and voice policy in Teams.
Once this has been completed, the last step will be for you to modify your Avaya phone system to route incoming calls to a Teams user's number to the Avaya to Callroute SIP trunk.
Outbound calls from Teams will route to your Avaya phone system via Callroute. Callroute will route calls to any destination, so it is possible for Teams users to call Avaya users using their extension number.
For calls to the PSTN, you must configure your Avaya system to route external phone calls from the Callroute SIP trunk to your PSTN lines.
2 – Avaya Calling app for Microsoft Teams
Avaya offers its own calling app for Microsoft Teams. The Avaya Calling App for Microsoft Teams allows you to use your existing Avaya phone system within the Microsoft Teams client.
Available with Avaya Aura, you can connect Microsoft Teams to your Avaya phone system, via the Avaya Cloud, to your Avaya ADDS server for soft phone registration.
The Avaya Calling App for Microsoft Teams brings all your existing Avaya features, contact list, and phone number to Teams as a soft client. This will work alongside or as a replacement to your Avaya handset or Avaya Communicator app. It merges the best of both technologies, Teams for chat and productivity and Avaya for meetings and telephony into one single application interface.
With this solution, you aren't required to purchase additional Microsoft Phone System licenses to enable calling. Instead, you can use your existing E1/E3 licenses alongside your current Avaya calling features.
This solution is suitable for organizations who want to continue to use Avaya Aura as their phone system instead of migrating to native Microsoft Teams Phone System.
This solution isn't suitable for organizations who want to use native Teams phone system features, such as Auto Attendants, Call Queues, Compliance Call Recording etc. To use native features of Teams phone system alongside Avaya features requires Direct Routing integration which is provided using Callroute.
For more information on the Avaya Calling App for Microsoft Teams, watch this Webcast from the International Avaya User Group.
3 – Avaya Session Border Controller for Enterprise and Microsoft Teams
If you want to integrate Avaya and Microsoft Teams to provide first-party calling experiences in both systems natively, then you can.
If you have at least version 8.1.1 of Avaya Session Border Controller for Enterprise (ASBCE), then this version is certified for Direct Routing with Microsoft Teams.
Combined with this appliance, you will require the expertise to configure your ASBCE for Direct Routing. This allows you to integrate calling between your Avaya phone system and Microsoft Teams directly.
Unlike the Avaya Calling App for Teams, Teams users will require the Microsoft Phone System license to unlock the native calling experience in the Teams client.
Furthermore, when users are enabled for Calling in Teams, they will no longer have access to their Avaya handset or functionality such as hunt groups within the Avaya system. All their call features will be handled by Teams.
This integration option is suitable for organizations looking to migrate away from Avaya to Microsoft Teams over a short to medium term who have the skills in-house to manage a highly technical implementation and migration strategy.
Once the migration is complete, you will still have a reliance on your ASBCE to provide the telephony connection. If your ASBCE is virtual and installed in the Cloud such as Microsoft Azure, this offers future compatibility and scalability. If however, your ASBCE is physical and installed on-prem, there may be a future project to migrate to the cloud version to consider. What is a session border controller in Microsoft Teams?
A session border controller (SBC) in Microsoft Teams is a device that connects to your external telephone services. The SBC is usually installed as a physical device on-premises or virtual appliance in a data centre, such as Microsoft Azure. For high availability and resilience, you may have more than one.
What is the purpose of session border controller?
The purpose of a session border controller is to facilitate the connection between your telephony service provider and Microsoft Teams. Without this connection, it would not be possible for your users to make and receive external phone calls in Teams (unless using Calling Plans or Operator Connect). The SBC acts as a voice network edge device that is responsible for the termination of SIP trunks and the routing of calls that are made over them.
Do I need an SBC with Teams?
No, you don't need an SBC with Microsoft Teams. A simpler alternative to configuring and managing an SBC is to use Callroute (option 1 in this list).
When working with the Avaya Session Border Controller for Enterprise and Microsoft Teams, there are some common challenges:
Configuration and maintenance of SBCs requires in-house or outsourced expertise
Updating SBCs requires changes to be made across all appliances to ensure consistency
Simple changes can take a long time to plan and execute
SBCs require hardware and software maintenance plans to ensure continued support
SBCs are the responsibility of your organization to operate
Troubleshooting problems often involve at least three different parties
Hidden costs like networking requirements, power consumption, and licensing.
Conclusion
There are several ways to integrate Avaya and Microsoft Teams. The route you choose depends on your use case, internal resource, and reason(s) for change.
Select the option that matches your requirements from the list above to start connecting Avaya and Microsoft Teams.
If you need help from Callroute, visit our website.