Microsoft released Pay as you go (PAYG) calling plans for Microsoft Teams in August 2022. This is a significant development for Microsoft UC centric customers. Previously, the only option for going all-in with Microsoft as the telco where limited to calling plans with bundled minutes.
When Microsoft bundled minute calling plans where released, the industry's toes curled a little. From a telecoms provider perspective, a beheamoth that previously enabled the industry to thrive all of a sudden became a direct competitor. From a customer perspective, the lure and attraction of bundling their telecoms into a pure cloud, single vendor subscription seemed almost too good to resist.
Microsoft were on to a winner.
Microsoft Calling Plans
However, one sticking point of Microsoft Calling Plans are that they do not appear that competitive in the market. For instance, a 120 minute domestic calling plan, customers would pay £4.50 per user per month.
Of course, the perceived value within this price was not just minute consumption, but the fact that customers could relinquish their reliance on on-prem hardware, maintenance and support. The theory being customers could realise a cost saving when factoring in their dependency and commercial risk on on-premises PSTN connectivity.
The reality is somewhat different, especially at scale.
The Calling Plan Conundrum
In medium to large organisations, the calculation quickly became cost prohibitive. Companies are used to PBX infrastructure that provide extensions to all employees and most of these will have domestic outbound calling privileges.
To move to Microsoft as their PBX requires all these users to have a DDI and therefore a calling plan in order to provide the same level of service as the on-prem PBX.
If you consider a relatively medium sized business of 2,000 users, the monthly cost would be £9,000 per month to give everyone calling.
On top of this, the calling plan does not include shared cost destinations, such as 0845 numbers in the UK. And if you wanted to dial international, you would need to change to a more expensive calling plan. Alternatively, you could deploy communication credits. This is a pre-loaded account that can be charged for out of plan calls.
When factoring different calling profiles of business units, the same 2,000 user organisation could realistically expect to spend a lot more than £9,000 per month.
This may not be poor value, so long as the business consumed all their minutes within the bundle each month. However, invariably organisations are left with a high volume of unused minutes which simply evaporate.
Direct Routing
To these businesses who needed to provide the same level of service as their PBX whilst still moving to Teams, direct routing is the preferred option.
Direct Routing is an attractive proposition to businesses because of its flexibility and cost efficiency vs bundled Microsoft calling plans. Businesses could:
Continue to use existing telecom providers. No large porting exercises
Continue to benefit from competitive call rates previously agreed with each telco
Continue to offer outbound calling to infrequent extension users
Flexibility to route calls to the correct phone system for the destination service e.g. PBX or Teams
Direct routing of course still requires on-prem SBC infrastructure. Some providers have moved to Direct Routing as a Service to remove the reliance of the on-prem hardware for the customer. However, almost all of these providers do not provide the flexibility for customers to selectively route calls based on number to different phone systems, unlike Callroute.
Microsoft Teams Pay As You Go Calling
For businesses who want to use Microsoft as a single vendor for PBX and PSTN, but where resistant due to bundle minute plans being expensive, now have an option.
Pay as you go now addresses the gap in Microsoft's native calling solution making it easier than ever for companies to move to their calling to Teams.
Pay as you go is available all supported calling plan countries. The cost of the base license is split into zones. Which zone you are in depends on the country your tenant is homed.
Zone 1 includes USA, Canada and the United Kingdom. However, at present, if your tenant is homed in the USA, PAYG is not currently available to purchase due to tax complexities. Microsoft are still working this out.
Zone 2 includes the European Economic Area (EEA) Countries, Eastern Bloc, Singapore and South Africa.
If your usage location is outside these zones. PAYG is not an option for you.
Why A Monthly Standing Charge?
Hang on, Pay as you go is a consumption billing based model, so why is there a standing monthly charge per license?
Microsoft are a little vague on where this cost is derived from, but it is reasonable to suggest that this fee covers the DDI number rental and the SIP channel the user will consume over their network infrastructure during an active call. Essentially, this is a line rental fee.
Unlike minute based calling plans, Teams pay as you go only allows you to acquire a single DDI per license vs 1.1 times the number of minute based calling plans. However, you do have the ability to acquire service numbers because these are derived from the number of Teams Phone System Licenses you have.
Costs of Calls
With pay as you go, you do not get any benefit from discounted bundle rates. Instead, you are billed as per the standard Microsoft Pay-as-you-go rate card.
Calls are charged per minute rounded up.
Note, that the Pay Per Minute rate card may be different to the subscription rate card which is used for out of minute bundle calls.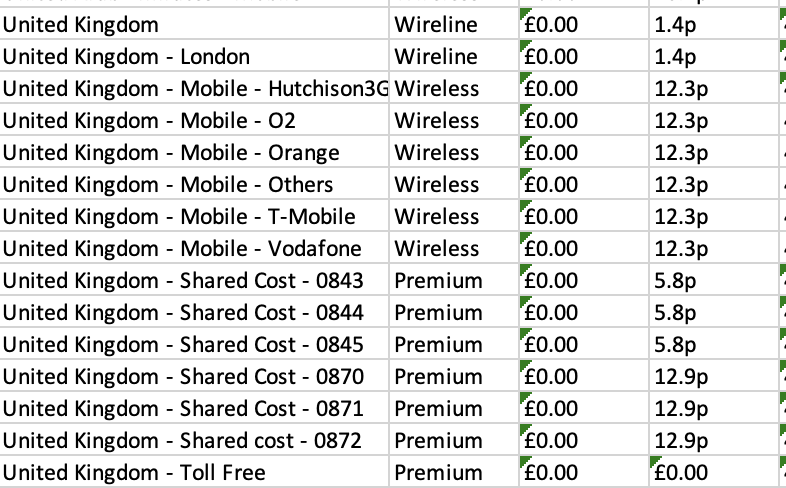 Paying Your Teams Pay As You Go Bill
There are two ways in which businesses can pay their pay as you go bill. Post-pay Invoice billing or via Communication Credits.
With invoice billing, you'll pay Microsoft by bank transfer on receipt of an invoice at the end of the calendar month. Communication credits is pre-pay. You will need to assign each user the communication credits license in addition to the pay as you go license and ensure that you have enough funds to pay for calls as they occur.
Calculating the Cost of Microsoft Teams Pay As You Go Calling
This is obviously dependent on your own circumstances. However, using a generic calling profile for the United Kingdom we can work out a rough order of magnitude.
UK B2B – 70% Landline 25% Mobile & 5% Premium
This calling profile represents the vast majority of UK business to business calling. Using the published rate card calls are charged at 1.4p to landline, 12.3p to mobile and an average of 9.35p for shared cost numbers. The following calculations can be made. The table below includes the Zone 1 infrastructure charge of £1.51 on top of the cost of the calls.
Based on this profile, the break point for when a Microsoft Calling Plan becomes cost efficient is about 60 minutes of calling. A direct comparison to the 120 minute calling plan of £4.50, as a pay as you go user, you'd be paying £3.18 more per month or £38.16 per year per user.
UK B2C – 55% Landline 40% Mobile & 5% Premium
This calling profile represents a realistic view of business to consumer calling. Especially in Education and Healthcare where it is becoming more even between mobile and landline calling. This table also includes the Zone 1 infrastructure charge.
In this profile, the break point for when Microsoft Calling plans are more efficient is around the 50 minute mark per month. Directly comparing this to a 120 minute plan, if a user were to consume this amount of minutes, you'd be paying nearly double what you would pay on a bundled minute plan.
Is Microsoft's Pay As You Go Calling Competitive?
Put simply no. Pay as you calling is not a compete to a bundled minute plan, even by Microsoft's own pricing. But then, it is not meant to be.
It allows companies the choice to enable calling for their low PSTN consumption users without an annual minimum spend commitment.
Compared to Direct Routing providers who offer calling plans and Pay As You Go options, the Microsoft version is more expensive. Using industry insights, Microsoft is about 20-30% more expensive per minute on UK domestic landline calls and even higher on mobile charges. But this is the price of convenience to the business.
Being able to go infra-less and just pay to consume is infinitely easier than Direct Routing and even Operator Connect right now.
Unless of course you have the right tools and automation available to you like Callroute. Using our interconnect and routing platform service providers can connect their SIP trunks to customer Teams tenants and provide their customers with an easy self-service portal to manage their numbers and calling services.
In return, service providers can offer their customers the same level of automation and ease as well as more competitive calling packages.
What Cost Protection Do Customers Have?
Using Microsoft Teams Pay As You Go Calling may represent a significant financial risk to customers depending on the method of payment chosen.
Currently, unlike other service providers who offer PAYG calling there is no granular mechanism to limit cost exposure to the company.
There are two areas that need to be considered. Abuse and toll fraud.
Abuse is where users realise they have this new calling feature and begin to use it frequently for personal calls in addition to their normal business use.
Toll fraud is where an external hacker has compromised the user account and are using it to make calls to premium numbers.
With bundled minute calling plans, the business exposure is limited to what the plan includes from a destination and minute consumption perspective. The business pays the same amount per month, but in the event of fraud, the impact is limited to minute burn. It is impossible (unless communication credits are used on auto recharge) to overspend if compromised by toll fraud.
With pay as you go, there is no limit and there is no known alert that can be set if a user or overall spend reaches a certain amount. Therefore, businesses on post-pay invoice billing could be in for a shock.
Currently, it relies on the IT Admin using the Teams Admin Center and downloading CDR reports to keep an eye on the costs of calls. But even if toll fraud is identified it will always be reactive and therefore exposing the company to unforseen costs.
How to Protect Against Abuse and Toll Fraud
The safest method to limit risk of toll fraud and abuse from employees is to use Communication Credits (without auto recharge) to fund PAYG calling. With communication credits, the company can preload each month a set amount and monitor its consumption. When it is consumed, calls stop.
However, asking someone to manually top up each month leaves the business exposed to forgetfulness and holiday. So turning auto recharge on eliminates this.
Whilst this removes the hard limit and an absolute risk exposure, there is an email alert that gets generated when communication credits is topped up. This goes to the global admin and they can determine if this is premature or not. If it is premature, investigations can immediately take place.
Conclusion
Microsoft Teams pay as you go calling is certainly an attractive proposition to customers who want to enable calling for their adhoc users. It removes the need to look elsewhere in the market and creates that utopia of a single end to end solution provider.
However, businesses should consider the cost implications of choosing the easy path and how that can escalate into unaffordable costs. PAYG for Microsoft seems to be an enabler. It removes the argument for not giving calling to users with E5 subscriptions and will seek to drive bundled minute calling plans once the true cost of calling is known to the customer.
Sure, it will most definitely work for some businesses, but it is not the Direct Routing killer that some in the industry predict.
For businesses who want a more cost effective solution in a competitive marketplace combined with the level of cost protection they expect, then Callroute is a logical option to consider.