Direct Routing allows you to use a calling plan or telephony setup from your existing (or new) telecoms service provider, whereas Microsoft Calling Plan means Microsoft is your network operator for calling.
The high-level differences are:
| | |
| --- | --- |
| Microsoft Calling Plan | Direct Routing |
| Activate quickly | Requires planning and setup |
| Access in Teams Admin Center | Possible to integrate with line of business apps |
| Good for basic calling requirements | Good for complex requirements |
| Regular monthly billing | Covers regions outside of Microsoft Calling Plan |
| Per user billing | Achieve feature parity with previous phone system |
In this blog post, we dive into the difference between Direct Routing and Microsoft Calling Plan so you can make the best decision for your business.
What is Microsoft Calling Plan?
Calling Plan is the default Microsoft solution for making external PSTN calls from Microsoft Teams.
Remember, we're talking about real phone calls here, not just audio calls to other Teams users.
Calling Plan is charged on a per-user basis, starting between £4.50 per user/per month up to over £18.10 per user/per month—depending on your licenses, the number of minutes you need, and international calling capabilities.
For more details, check out our blog explaining Calling Plan Pricing.
Phone System: the prerequisite for Calling Plan
In order to set up Calling Plan, you first need Microsoft Phone System.
Phone System is included in Microsoft 365 E5, but must be purchased as an add-on with others.
On-premises telephony is generally managed by a PBX. This enables call management, user controls, routing, recording, etc.
When using Microsoft Calling Plan, Phone System provides this control.
Calling Plan: pros and cons
Microsoft Calling Plan keeps all of your Teams-related licenses with Microsoft, and it's simple to get started.
But it doesn't provide the sophistication you likely need to replace your existing business phone system.
| | |
| --- | --- |
| Microsoft Calling Plan Pros | Microsoft Calling Plan Cons |
| Activate quickly | Limited changes |
| Access in Teams Admin Center | Restricted integration |
| Good for basic calling requirements | Restricted telephony features |
| Regular monthly billing | Expensive when scaling |
| Per user billing | Limited regions |
What is Direct Routing?
Direct Routing delivers the same capability as Microsoft Calling Plan—it enables PSTN calling from Teams.
But it does so while creating a much better outcome. Direct Routing (and Calling Plan) work using SIP trunking to make end connections for voice transfers over the internet.
You also need Phone System to enable Direct Routing. But, with Direct Routing, Phone System is just a prerequisite license. It is not used as a stand-in for a PBX.
The difference is that Direct Routing connects Microsoft's Phone System to the PSTN via a telephony provider, rather than Microsoft.
This means introducing complete PBX capabilities to your Teams calling solution, and avoiding the shortcomings of Microsoft Phone System.
Direct Routing also introduces a wider range of device compatibility and an overall greater degree of customization and control—including price flexibility.
Pro tip: Direct Routing can either be provided by a third party, or by the PSTN carrier.
For example, at Callroute, we provide both the PSTN service and integration capabilities. The latter option delivers faster integration and improved quality controls because back-end integrations can be pre-configured and the entire process is controlled by a single provider.
The bottom line: We should state upfront that Direct Routing has the potential to be the better solution, but not all Direct Routing solutions are the same.
By using our own service at Callroute, however, we can talk about some of the specific advantages that Direct Routing has over Microsoft Calling Plan.
Callroute's unique Direct Routing technology integrates market-leading telephony with Teams
Callroute's uniquely developed Direct Routing technology offers five distinct benefits that simplify Direct Routing adoption and provide customer flexibility.
1. Automated Direct Routing configuration:
Callroute automates the end-to-end Direct Routing setup, from SBC configuration through to number management and porting, enabling users to place external calls from Teams in minutes.
2. Flexible per-channel, pay-as-you-go pricing:
Channel count is pooled across users and geographies. Combined with auto-scaling that increases capacity as required, businesses only pay for the voice channels they need rather than every user.
3. Global coverage:
Callroute allows businesses to grow a global presence affordably using their established global network, providing access to international numbers and simple international calling plans.
4. Hybrid capability:
Within the Callroute portal users can build hybrid environments that allow UCaaS or CCaaS platforms to work seamlessly with on-premises telephony equipment such as PBX's, analogue endpoints, or SIP phones.
5. Free channel for life:
Callroute offers the opportunity to try a free voice channel for life rather than a time-limited trial, enabling businesses to experience the value of Direct Routing for as long as they need, without commitment.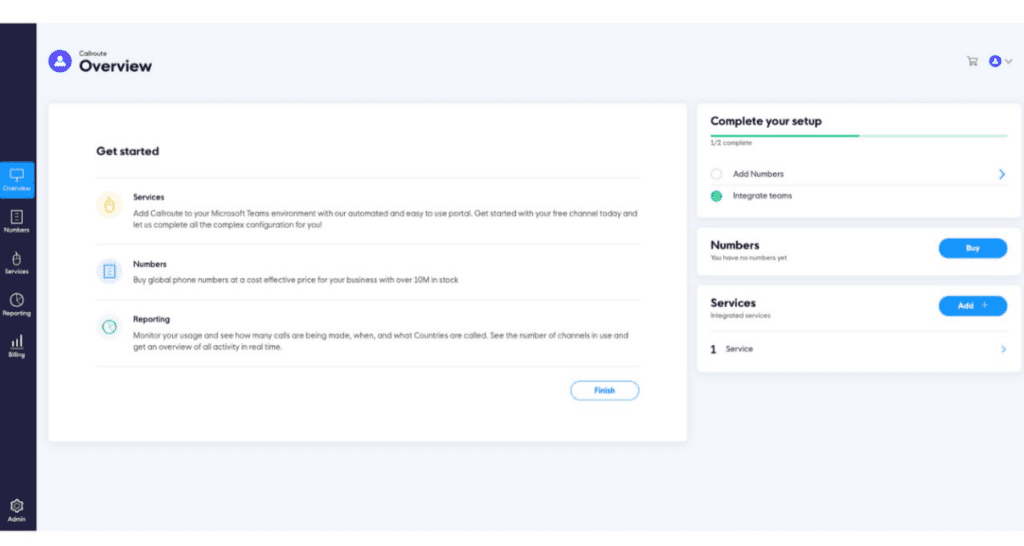 Why Calling Plan often falls short
With Calling Plan (and Phone System), you get a partial solution that improves Teams, but can't replace your real phone system.
This means Calling Plan won't work to simplify your infrastructure—nor can it really unify your communications.
Ultimately, if you require a more sophisticated approach, Calling Plan leaves much to be desired.
Here's why:
Lack of call recording: This can create compliance and quality control issues.
No call reporting: Can't see individual team member use rates or control costs individually.
Limited queue capabilities: Limited to 200 people and only offers a waiting period of 45 minutes.
Endpoint/handset compatibility: Rely on a limited number of compatible devices.
Insufficient routing: No customized skill-based options.
Inability to unify phone numbers: Can't unify phone numbers. Instead, you'll generate a number for each Teams account, creating redundant infrastructures and more complicated workflows.
What makes Direct Routing the better choice (most of the time)?
Every Direct Routing solution will be unique to the provider and integration.
A lot of Direct Routing solutions are let down by slow integration times—often up to seven days—and inflexible pricing with long-term contracts reminiscent of traditional telephony.
But neither of these problems is inherent to Direct Routing, and finding the right provider can remove them entirely.
With Callroute for Direct Routing, you get:
Number porting: Keep your existing phone numbers with a fully managed number porting service.
New numbers: 10m+ numbers available from all around the world.
On-demand support: 24/7 customer support, migration, and regular maintenance.
There's no question that unified communications is essential to the future of business. The best option for a streamlined strategy is Direct Routing, which gives you the advantage of sophisticated telephony directly from Teams.
With Callroute, you can harness the power of Direct Routing, unify your phone system, simplify workflows and future-proof your calling capabilities in a matter of minutes.
To learn more about how Direct Routing can benefit your team, book a free 30-mins demo here.