Technology has vastly simplified the enablement of cloud voice services. Today we have lots of choices for turnkey cloud calling solutions. Microsoft, Google, and Zoom all offer their own out of the box calling solutions that from point of purchase to making a phone can be at the very basic level, just a few minutes.
Where cloud telephony gets complicated, is ironically when it has customers!
Enterprise telephony largely across the market have a mixture of different systems, with providers and systems performing different functions within the enterprise. For instance, PBX for backoffice calls, contact center, Analog phones, door access systems, tanoy etc.
With such a heterogenous environment, integrating a cloud service into your voice network or even migrating users to it requires calling integration across all your systems in order to maintain your company dial plan.
Choosing the right connectivity solution for your Teams calling service is therefore critical upfront decision.
Microsoft Teams Calling Options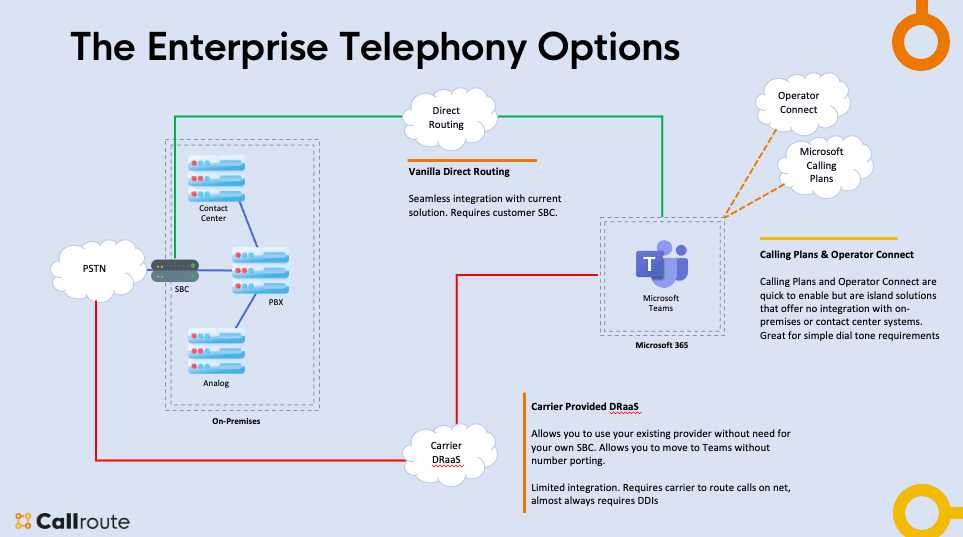 What option you choose largely depends on your end goal. In Microsoft Teams, you can get up and running with simple dial tone using Calling Plans and Operator Connect within a short space of time. However, these are largely dependent on country availability and also functionality.
Microsoft Calling Plans
Where available, you can choose new numbers for your workers or choose to port. When porting, you can port individual numbers to Microsoft based for users and services that can be fulfilled by native Teams voice functionality. Those numbers servicing other functionality e.g. analog, contact center or other functions must still be transformed, but how?
Do you keep them with your existing carrier and downstream services? Do you need to transform them at the same time as Teams? How do you integrate your Teams users to other telephony only users?
The standard answer is, 'use native teams'. For internal communications this often is the answer. However, there are certain organisations where a user's primary communication device is not native Teams capable, or when customer call transfers need to happen. The only way is to transfer over the PSTN which then requires DDI and introduces a cost on the call that was once on-net. Or, for internal communication, upgrade every user's primary communication device to Teams native, or deploy a workforce transformation project alongside.
Of course, for small businesses this can be an acceptable solution, but it doesn't scale with enterprise complexity.
Every phone system is an integration to consider. Renumbering, or reconfiguring platforms to support Teams users. Compliance requirements of media security and recording are also a major consideration.
Operator Connect
Operator Connect can reduce the complexity a little. While again limited to just Teams native functionality, if the Operator is also your existing provider they can offer tighter integration between their products and handle some of the routing for you between systems. Whether this is portal based or service ticket will be down to your provider. Even with this, there will be some limitations that you will need to consider
Direct Routing as a Service
DRaaS is another option. This was the first incarnation of Operator Connect and has the same limitations as mentioned in with OC. Most carriers will be able to support this and being able to move between systems becomes a little easier. However, much like Operator Connect, it involves that Operator to have products available to help with this.
Direct Routing
For those complex environments, there is standard direct routing where you provide your own SBC and connectivity between Teams and your existing systems. This by far gives you the flexibility you need to support your hybrid telephony environments. However, you have to take on the cost of the hardware, the Pro Services to install it and the management of that service going forward.
The operational cost of DIY direct routing far exceeds that of any other connectivity method, unless it can be simplified.
Challenges in Enterprise Communication Transformation
The problem with enterprise telephony is that since the beginning of it's time it has been a one in a 7-10 year project. The project to deploy it would have front loaded with all the professional services to install and commission it. After that, the documentation gets stored somewhere, never to be touched again.
Through staff and businesses changes and priorities, documentation does not get updated and by the time the enterprise is ready to migrate to a new system, they do not know what they have or how the business uses its telephony. Transforming telephony in an enterprise is a huge challenge. Regardless of the roads technology has made towards removing barriers, unless you know how your business uses your telephony you cannot make any recommendations or choices. Doing so will lead to failure.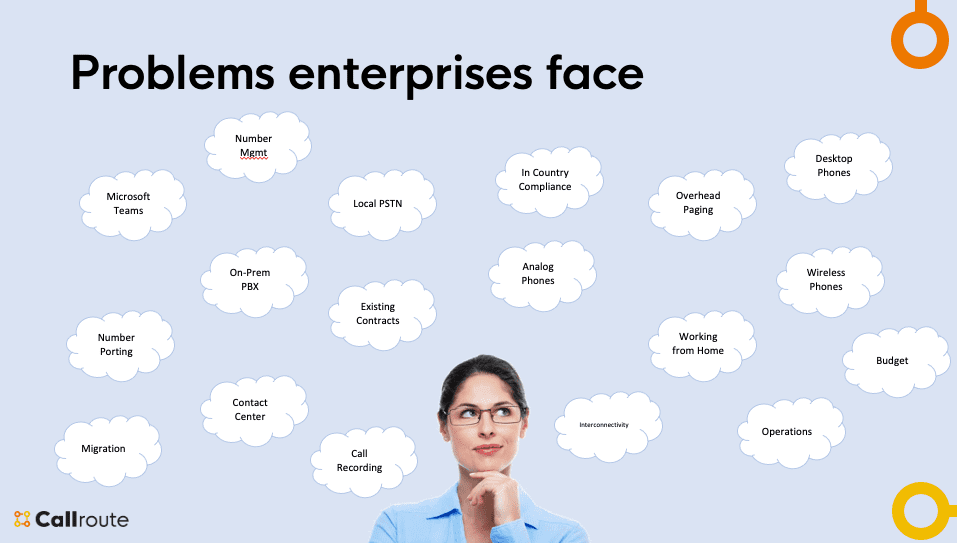 When you start to peal back the layers of complexity within the enterprise, you realise that to move to Teams or any platform consideration needs to be given to these dependencies.
Your project may not have the budget to completely transform all the elements within your telephony estate.
Perhaps you only want to use Teams for a percentage of users and will deal with modernizing and transforming your other components further down the road?
Being able to break up your transformation programme into small, manageable, cost efficient and ultimately deliverable projects, is the overriding objective of any migration project.
When you start to understand your complexity, you can design your way out of it.
For instance, existing contracts with providers is still the most limiting factor for many enterprises moving their Telephony to Teams. Why should an agreement made years ago stop you from progress?
You know that you want to eventually move to a cloud solution, so spending money on certified Teams SBCs for Direct Routing in order to use your PSTN service provided by your existing carrier that you are contracted to doesn't make sense.
SBCs cost upwards of £10,000 per unit. If only there was a way that would allow you to use your existing SIP gateways for Teams Direct Routing in a certified manner?
With users and services provided across different systems, being able to first know where numbers are routed and then who / to what service they're assigned is a telecoms admin's headache. How many of you maintain an excel spreadsheet for this?
Integration between systems like I have mentioned before. How do you ensure global and integrated routing between systems? What do you need to change and on what systems?
Largely overlooked by every project is operations. Once the migration is complete, how do your support teams ensure that the service can be integrated into your enterprise's service catalog? What automation needs to be created to support joiners, movers and leavers?
It's quite a daunting prospect and all these problems enteprises face, it is often easier to stick with what you have than attempt transformation.
So how do we remove these barriers and let organisations transform in line with what is affordable and manageable for them?
How Callroute Makes Moving to the Cloud Easy
Callroute allows you to connect your telephony services together in the cloud, using one global voice routing engine that is designed to be end user friendly and configurable with minimal expertise.
Bring your own carrier trunks to us directly in the cloud.
Where you have existing contracts on-premises for PSTN, simply connect your existing on-prem SBC to Callroute and use our Teams certified gateways , leaving Callroute to interoperate between whatever SBC you have and Microsoft and be fully supported for direct routing
Have existing PBXs, Call Manager, Avaya, Mitel, ATA gateways or whatever. If it can do SIP, we can connect to it. Bring these systems into Callroute along with Teams and your PSTN and have a fully integrated voice network delivered as SaaS
Have a contact center, no problem, we integrate with them all
The benefits of using Callroute is that we simplify what was once complicated.
We take care of your global numbering plan so that you can connect your phone systems together and assign numbers and ranges to the required systems. Keeping internal calls between your systems on-net and allowing you to converge and consolidate your carriers across all your voice applications in one place.
Building your Callroute cloud voice engine allows you to simply plug n' play your voice services that enables faster realisation of your objectives to production at much reduced costs.
Our system is designed to be flexible so that you can pick and choose who and what you transform and when.
Should your requirements change in the future, you'll be able to remove the systems you no longer need and add new ones without going through the expense of a large migration project involving carrier or integration complexity.
Building Your Own Voice Cloud – Enabling PoC with Minimal Cost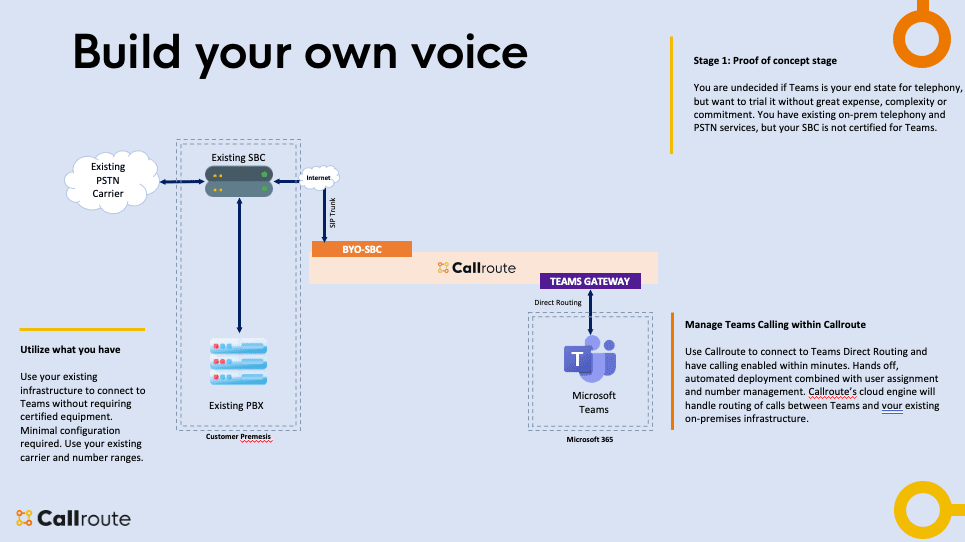 In the simplest of scenarios where you just want to trial Teams voice without making massive investment, you can do this with our Bring Your Own SBC service.
Whatever SBC or SIP gateway you have on-prem, you can easily connect this to our cloud using SIP (TLS or UDP) over the internet. Use our automated Teams gateway integration to make the certified connection to your Teams tenant and let callroute route calls between your SBC and Teams in a fully supported and compliant way.
Make small changes to your on-prem routing to route selected numbers to Callroute and onwards to Teams. This will allow you to PoC Teams as a voice platform using your existing services with zero disruption to BAU and very minimal cost, both in software and professional services.
Enable your service desk to assign Teams voice services using our user friendly portal.
Consolidate Services in the Cloud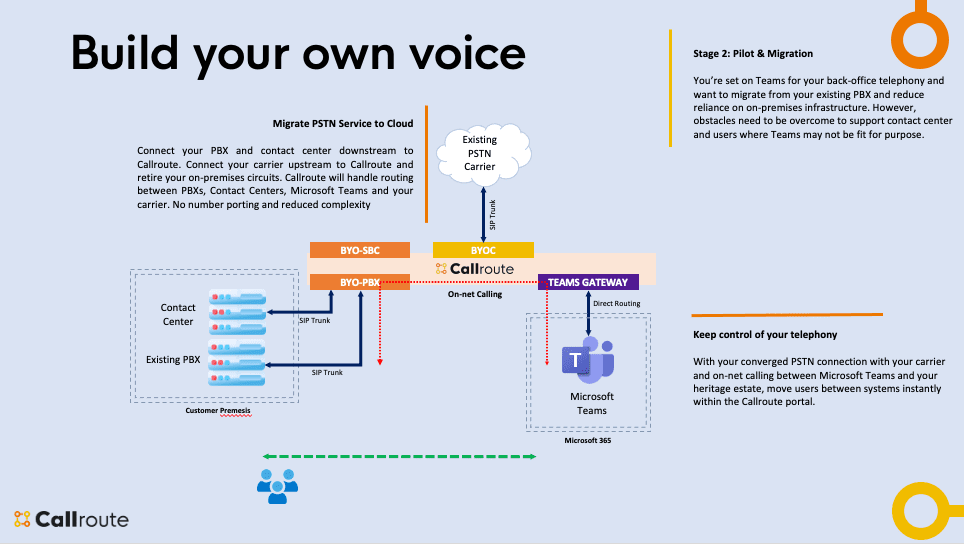 Where you've decided that Teams is going to play a permanent role within your business for voice, you want to focus on removing reliance on on-prem and begin your move to cloud services. Maybe the first step is to move your PSTN into the cloud. Using our Bring Your Own Carrier, you can converge all your carrier connections into Callroute directly in the cloud without the reliance on on-prem phone lines.
Connecting your existing PBXs, Contact Centers, Analog Phones etc to our BYO PBX gateway allows your existing environment to access your cloud PSTN services in addition to Teams.
Calls between your on-prem and Teams services will route on-net to callroute, even if those numbers are provided by different carriers. We will also soon support extension dialling between systems.
When you are ready, you can move your users between systems seamlessly by just changing the number destination assignment in Callroute. With Teams, callroute does all the number and policy assignment, so moving to Teams is point and click.
Extend When You Want
As time moves on and you have the capacity to begin future optimizations, e.g. moving your contact center to the cloud, you can connect your contact center to Callroute for inbound and outbound call delivery. Whether this is a standalone or Teams integrated contact center, to callroute it doesn't matter.
Agents will be able to transfer calls between contact center and all your telephony services. If you do use a Teams integrated contact center, then Callroute supports these too.
As you move forward you can simply add new carriers, new SBCs, new PBXs, New Teams tenants or UCaaS platforms. To callroute it doesn't matter. Plug in your phone service and Callroute instantly integrates it into your voice network without you having to reconfigure all your platforms.
One example is Mergers and Acquisitions. If your company buys another, then you can integrate their phone solutions into your Callroute cloud and immediately have the benefit of cross domain communication. You can then start to consolidate services and users while maintaining BAU functionality at your own pace.
Final Thoughts
In today's modern world, enterprises are looking for cloud solutions that offer flexibility to adapt to an ever changing landscape and provide value. With Callroute at the centre of your telephony, you are free to change and adapt your services to suit your requirements without having to embark on a huge transformation and integration project again.
Want to Learn More?
If you'd like to see Callroute in action, why not watch our on-demand webinar on this subject? You can watch this now here.