Microsoft Teams Direct Routing is the process that enables the connection of your own session border controllers to Teams to provide telephony and external calling services from on-site or cloud telephony via a vendor other than Microsoft. Operator Connect, on the other hand, is when Microsoft verifies a telecommunications operator to provide cloud telephony services via a direct connection on Microsoft's infrastructure.
The high-level differences between Direct Routing and Operator Connect are as follows:
| | |
| --- | --- |
| Microsoft Teams Direct Routing | Microsoft Operator Connect |
| Bring your own carrier | Choose from approved carriers |
| On-premises or cloud managed SBC | Cloud only |
| Session border controllers must be approved | Operators must be verified by Microsoft |
| Managed, indirect connection between carrier and Microsoft | Direct connection between carrier network and Microsoft |
| Numbers managed on third-party software | Numbers managed in Teams Admin Center |
| Different interface per SBC | Same interface if you have multiple carriers |
| Available wherever your SBC is | Not available in all countries |
| Third-party SBC SLA | Microsoft SLA |
| Support for legacy PBX functionality via SBC | Legacy PBX functionality not supported |
| Supports all PBX integrations | Supports Microsoft 365 approved integrations |
| Supports hybrid deployments | No support for hybrid deployments |
| Configurable voice routing | Standard voice routing only |
Both are viable options for businesses of all sizes. And there are many similarities and differences to be aware of.
In this blog post, we're going in-depth to explore when Direct Routing is the best option, when Operator Connect is the best option, and when there might be a third (or forth) option to consider.
What is Direct Routing?
Microsoft Teams Direct Routing, often referred to as just "Direct Routing" is when Microsoft supports connecting session border controllers (SBCs) to Teams. This could either be in your own SBC or a vendor's environment.
The physical or virtual SBC connects telephony (on-premises or virtual) on one side to the cloud (Teams). There's no certification for vendors or end customers to become ready-to-use for Teams. Only the physical equipment can be Teams-certified.
When you opt for Direct Routing, you get Teams access to unique functionality that an SBC enables. This includes advanced routing rules that you can't (yet, at least) replicate on a Microsoft Calling Plan deployment.
So, if you need any/all of the following PBX features, Direct Routing is likely the best choice:
PBX interop
Least cost routing
Media bypass
SIP trunks
Analog devices
Fax
ISDN connectivity
Local site breakout
Survival branch appliance
Complex routing
Extension support
Disaster recovery
Here is a basic topology diagram of how Microsoft Teams Direct Routing works:
How does Direct Routing work?
Direct Routing works by using an SBC to connect Microsoft Teams and another telephony carrier. The SBC literally controls the border, instructing how the two parties operate together.
On one side, you have the PSTN connection. This might be a SIP trunk or ISDN connection. On the other, you have your Microsoft environment.
Here's a basic diagram depicting how an SBC works as the control gateway between your PSTN provider and a Teams user.
To set up Direct Routing, there is one prerequisite from Microsoft:
Microsoft Teams Phone license
Once you have the relevant licenses in place and kit setup, you can provision Direct Routing to any type of Teams client and any common area phones.
If you need new numbers for your Teams telephony setup, you can provision these as per your normal process.
When you need to port numbers in, this process also remains the same as your PBX provider doesn't change; only the connection to Teams.
What are the advantages of Direct Routing?
The benefits of Microsoft Teams Direct Routing are:
Provides a consistent user experience as there's no third-party calling app
Covers regions outside of Microsoft Calling Plan
Allows users to make calls directly from Teams
Enables integration with line of business apps
Lets you keep your existing phone numbers
Scales easily by adding and deleting users
See out your existing telephony contract
Enables complex routing setups
With the wide number of business collaboration tools in use (even within a single organization), standard phone calls are a unifying communication tool.
Collaboration with external stakeholders still mostly takes place on the phone. Fundamentally, integrating this communication option into your business collaboration tool is the only way to deliver full-spectrum coverage across every necessary collaboration channel.
Direct Routing pricing and costs
Direct Routing pricing differs from provider to provider.
As a guide, we have included our own pricing, accurate as of August 2023:
$2.30 per user per month pay as you go (including a DDI)
$4.19 per user per month inc 300 minutes per user
Choose Direct Routing when…
1 – Long-term phone system contracts get in the way
If you have any existing PSTN provider tied up in a contract, Direct Routing allows you to use that phone system as your telephony provider.
2 – Industry-specific regulations restrict your options
Ideal for on-premises connections in industries like finance and healthcare, when legislation or compliance dictates the cloud shouldn't be used to transmit data or phone calls, Direct Routing provides an option to keep telephony on-site while enabling Microsoft Teams.
3 – Important features aren't available in Microsoft Teams
If you have specific PBX functionality that isn't (yet) available via Teams, Direct Routing allows you to have the best of both worlds: keep your PBX functionality and use Teams for collaboration and meetings.
Direct Routing providers
Anyone can be a Direct Routing "provider". Microsoft doesn't certify vendors as providers of Direct Routing. Instead, it verifies the SBCs.
Here is a list of verified SBCs for Direct Routing, accurate as of August 2023:
Microsoft
Audiocodes
Ribbon
Thinktel
Oracle
TE-SYSTEMS
Metaswitch
Cisco
Avaya
Nokia
Ericsson
Italtel
ULTATEL
Cataleya
Atos
Sansay Inc
Enghouse Networks
Patton Electronics Co
M5 Technologies
Ekinops
46 Labs LLC
Frafos
You can use this link to check if your existing SBC has been verified since this blog post was published (September 2023).
What is the alternative to Direct Routing?
The obvious alternative to Direct Routing is Operator Connect.
If you have no need for on-premises telephony but wish to use your existing (or a new) provider for calling, Operator Connect is a viable alternative to Direct Routing.
What is Operator Connect?
Operator Connect is when carriers are approved by Microsoft to provide direct cloud calling access via Microsoft Teams. Instead of using Microsoft as the calling provider, you use an approved operator.
For example, in the UK, you might have an existing calling agreement with BT. In the US, it might be Verizon or AT&T. These are all approved Operator Connect partners who can provide cloud telephony via Microsoft Teams.
When set up, users make calls using their Teams client, but the "Operator" makes the call behind the scenes. Just like Direct Routing, there's no difference seen by users making calls.
It's important to note that Microsoft doesn't select carriers to become "Operators". The carrier makes the decision and must undergo Microsoft's approval processes.
How does Operator Connect work?
Your chosen Operator looks after all layers of infrastructure and uses a direct connection to Microsoft's cloud.
Essentially, they look after the PSTN, SIP trunks, and SBC, then connect to Microsoft to power your calling functionality in Teams.
The diagram shows the basic responsibility of Operators when providing calling for Microsoft Teams.
What are the benefits of Operator Connect vs Direct Routing?
Operator Connect allows you to keep your existing calling provider without the need to manage the telephony environment yourself. With Direct Routing, you must either manage your own PBX and SBC or pay a provider to do this for you.
With Operator Connect, you simply choose an Operator from Microsoft's approved program, and they do everything for you. This means there's no hardware needed on-site either.
If you need to make any changes, you can access the Teams Admin Center (TAC) like you would any other configuration changes for meetings, collaboration, chat, etc.
This combination of no hardware and instant access via the TAC means you have faster and easier initial deployment. All you need to do is connect to your Operator and assign numbers to get started.
As Operator Connect uses direct peering with Microsoft, you can expect reliability over Direct Routing thanks to the one-to-one network created by each Operator.
| | |
| --- | --- |
| Microsoft Operator Connect | Microsoft Teams Direct Routing |
| No managed telephony environment | Managed by you or third-party |
| No hardware needed | SBC needed |
| Fast and easy deployment | Complex deployment; needs planning |
| Direct peering for enhanced reliability | Reliability dependent on PBX |
Operator Connect pricing and costs
How much you pay for Operator Connect depends on your call carrier.
Each vendor will have their own call costs for domestic and international calls.
The major benefit of using Operator Connect is that you benefit from existing packages or discounted rates, rather than paying retail for Microsoft Calling Plan.
As prerequisites, you need Teams access via a Microsoft 365 plan and a Teams Phone license.
Choose Operator Connect when…
1 – You're ready to go all-in on cloud
You have no legacy on-premises infrastructure left in use or it is deemed unnecessary or poor quality compared to cloud telephony options.
2 – You value speed and flexibility over complex routing
You need to make regular changes to users, groups, and numbers. But you don't need to set up a complicated routing table and inbound logic.
3 – You don't have the in-house resources to manage a phone system
If you need help from a vendor to run your telecoms infrastructure and/or have an existing calling agreement in place with a telco.
Operator Connect providers
Microsoft is verifying Operator Connect vendors at a rate of knots.
As of August 2023, here are the verified Operator Connect partners for calling.
See if you see your existing telco provider:
Access4
AIS
AT&T
Aura
Bandwidth
Beanfield
Bell
BICS
BT
CallTower
CBTS
Colt
Cox Business
Duetsch Telecom
Dstny
Enreach
equada
Fusion Connect
G12
Gamma
GTT
HelloTeams
Intelepeer
Liquid
LoopUp
Lovo
Lumen
MetTel
Nexon
NFON
NOS
NTT
NuWave
NWN Carousel
One New Zealand
OneCloud
Optus
Orange Business Services
outbox
Peerless Networks
Peoplefone
Pingco
Proximus
Pure IP
Rogers Business
SCB Global
Sinch
Singtel
SIPPIO
Six Degrees
Sunrise
Swisscom
Switch Connect
Symbio
Tata Communications
Tele2
Telefonica Empresas
Telefonica Global Solutions
Telenor
Telesmart
Telia
Telnix
Telstra
Telstra Global
TELUS
Verizon Business
Virgin Media O2 Business
Vodacom
Vodafone Business
Vox
As you can see by the length of the list, which keeps growing, the popularity of Operator Connect can't be disputed. When telecom operators see an opportunity to retain or provide new calling services to their clients that use Microsoft Teams, Operator Connect makes sense for all parties.
Microsoft keeps an up-to-date directory of Operator Connect partners here. You can filter by region and offer (calling, conferencing, mobile).
What is the alternative to Operator Connect?
There are three alternatives to Operator Connect:
Microsoft Calling Plan
Microsoft Teams Direct Routing
Callroute
When is neither Direct Routing nor Operator Connect the right choice?
For small businesses or small sites within a business, Microsoft Calling Plan provides a compact alternative to both Direct Routing and Operator Connect.
You can subscribe to Microsoft Calling Plan in the Teams Admin Center and apply pay-as-you-go plans, buy Communications Credits, or buy a minutes bundle.
Here are the key differences between Microsoft Calling Plan and Direct Routing:
| | |
| --- | --- |
| Microsoft Calling Plan | Direct Routing |
| Activate quickly | Requires planning and setup |
| Access in Teams Admin Center | Possible to integrate with line of business apps |
| Good for basic calling requirements | Good for complex requirements |
| Regular monthly billing | Covers regions outside of Microsoft Calling Plan |
| Per user billing | Achieve feature parity with previous phone system |
You can choose from Pay-As-You-Go Calling for Calling Plan or post-pay invoice billing.
If you choose post-pay invoice billing, you don't have visibility over your spend until the invoice at the end of each month. However, you could benefit from not needing to purchase a minutes bundle upfront.
Microsoft Calling Plan: pros and cons
Microsoft Calling Plan keeps all your Teams-related licenses with Microsoft, and it's simple to get started.
But it doesn't provide the sophistication you likely need to replace your existing business phone system.
| | |
| --- | --- |
| Microsoft Calling Plan Pros | Microsoft Calling Plan Cons |
| Activate quickly | Limited changes |
| Access in Teams Admin Center | Restricted integration |
| Good for basic calling requirements | Restricted telephony features |
| Regular monthly billing | Expensive when scaling |
| Per user billing | Limited regions |
Read More: Direct Routing vs Microsoft Calling Plan for Microsoft Teams
The bottom line on Direct Routing vs Operator Connect
Both Direct Routing and Operator Connect provide substantial options if you use Teams for meetings and collaboration and want to move your telephony and calling to Teams too.
There are various pros and cons that change per business, and you should pay attention to this when making a decision.
What's not made easy with either solution is catering for multiple calling providers and multiple locations.
For example, you might have your New York office running Teams for collaboration and AT&T for telephony, but your London office is using Teams plus BT.
From an admin perspective, the desired state is that you connect your carriers, contact centers and your PBX users together in one place.
What you need is a single platform that can connect any carrier, in any country to Microsoft Teams.
Which is exactly what Callroute does…
We put number management, policy management, and PSTN connections into a single portal.
Integrate Direct Routing, Operator Connect, or Calling Plan
Instead of milling around making countless changes and forever calling your supplier, you could connect your voice services to Microsoft Teams within minutes with our one-click integration.
There are no infrastructure or deep technical skills required. Just access to our self-service platform.
Inside the portal, you can:
Automatically assign Direct Routing phone numbers
Automatically assign Microsoft Calling Plans phone numbers
Automatically assign Operator Connect phone numbers
Mix and match locations, users, and numbers
You also benefit from our auto-provisioning service, which helps you save time and money on new user assignments, moves, adds, and changes.
There's no more lengthy setup and there's no human to make human error. You just create a user persona template and leave the rest to our automation.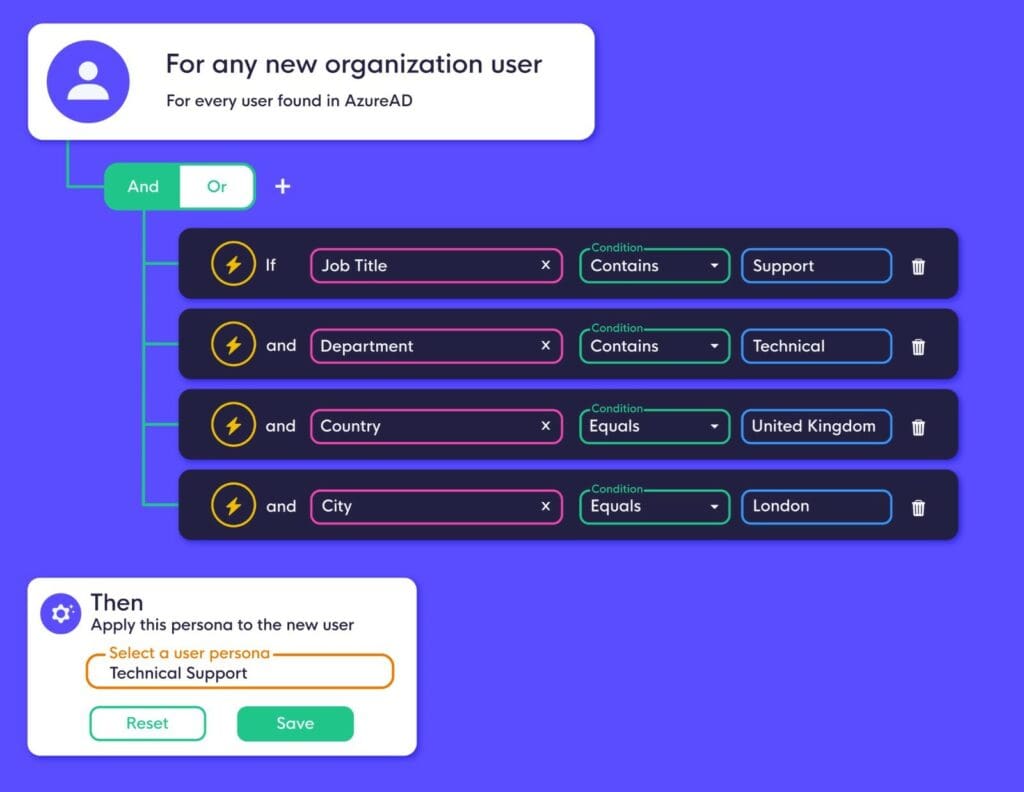 Sounds like something you want to explore?
👉 Find out more about Callroute's Teams Calling integration here 🔥